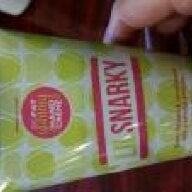 Joined

Jun 14, 2009
Messages

572
Hello--
I **think** I have finally found my 2ct+ SI2! What an experience this was! OMGOSH!!! Crossing my fingers I bond with this baby!!!! She just arrived today and there is a slight trade off with inclusions from the other SI2 I had.
So.....
I have been looking at settings. I am leaning toward a 5 stone graduated setting. My mother gave me my grandmothers diamond ring the other weekend to possibly use the diamonds to create a ring. This ring does not have a GIA and has the
craziest
appraisal from 1970's. Talk about NO information!!!! LOL!!! What??? Hand written also. Contains two .35's and one center .50 (approximate sizes states the appraisal). The diamonds sparkle quite well but have a TON of metal (WG) around the sides of the diamonds so it is really hard to tell. I louped them- seem pretty darn clean! Way cleaner than my SI2!!!!
My question is, do you think I could use my grandmothers diamonds beside a RB GIA 3x center 2.16 H? Color seems to match fine- it would be more of the brilliance or cut. I assume a jeweler could tell me this with OUT taking apart my grandmothers ring? It would be a shame to deconstruct the ring and not use the diamonds.
If I can use them, GREAT, sentimental plus saves $$$$ since I would only need to purchase an additional .05. Then custom make the ring (simple design with two graduated side stones) since the side stones are specific sizes. Bit worried about the "approximate sizes" of the diamonds. My mother was the one who had it appraised after my grandmother passed. Diamonds were in the setting when the appraisal was completed.
Any clue based on pics if it is even worth investigating?? I feel I know this answer already -"cant tell by the pics" LOL!!! I have been on PS too long....