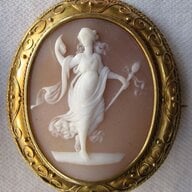 Joined

Apr 17, 2002
Messages

3,864
My beautiful blue sapphire finally arrived from Sri Lanka (see this thread:
https://www.pricescope.com/community/threads/my-sapphire-is-on-its-way.266877/
)
It's a round cut, a little less than 2ct, with a 1.4mm diameter. I'm trying to decide how to set it.
I would like to be able to wear it stacked with my platinum wedding band on my ring finger, without a huge gap. Given
@Cerulean
's experience with bezeling her similar sapphire, I want it in prongs, with plenty of opportunities for light to get in.
Choice 1: A simple solitaire setting. This is DH's preference--he likes colored stones and dislikes diamonds. If I go this way, I would probably choose a Victorian-inspired 8-prong crown setting similar to this one, which DanM made for LabFace:
1. 14k yellow gold solitaire setting for customers 8.5mm CZ per conversation with brushed finish. Finger size 5.75
www.etsy.com
Choice 1a: The Daniel M Victorian solitaire in Argentium silver. Advantage: Cheap, so I would feel free to change my mind and reset the sapphire if I wanted to. Though I'm not a big one for resetting my stones, so it might just stay there forever. Disadvantage: Less durable; doesn't quite match my platinum wedding band.
Choice 1b: The same setting in platinum. Advantage: Durable, matches my wedding band. Disadvantage: Expensive enough that it feels like more of a commitment, but that might not matter.
Choice 1c: Some other completely-no-diamonds solitaire by some other designer (who? which one?).
Choice 2: Put this sapphire in the setting that currently holds my grandmother's OEC, and reset Grandma's OEC in some other wonderful setting (like what?)
Backstory: Long, long ago, Grandma had her OEC reset in a man's ring and gave it to Grandpa for an anniversary. I remember it twinkling on his pinky all through my childhood. After he died, she had it reset in a necklace and gave it to me as a graduation present. It was too blingy for me, though, and I never wore it. After I got married decades later, I decided I wanted to wear it in a ring, so I got an inexpensive reproduction Edwardian-style setting appropriate to the period when Grandma and Grandpa got engaged. It's just a cast reproduction, not very high quality, and I thought of it as a temporary solution, planning to get a nice setting custom made someday--but I never did. The OEC and the sapphire have similar measurements (the OEC is a smidge wider), so the sapphire would fit well in the setting. But then I would have to actually decide on a new setting for the OEC.
Choice 3: Something else! Suggestions? I love actual antiques, but if I'm going to have a new setting made for the sapphire, I want it to be a new design, not a repro of something old.
Choice 4: A moi-et-toi with the OEC. I don't think I would actually do this, but I'm kind of toying with the idea.
Here are some photos of the sapphire, including some where I'm also wearing the OEC in its repro setting: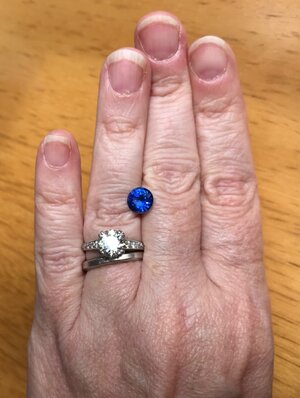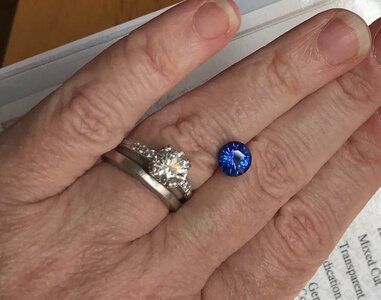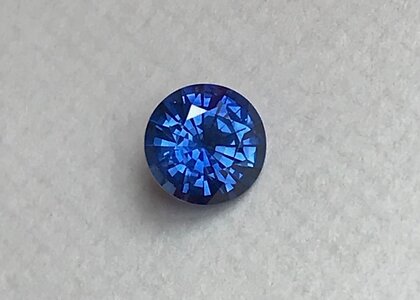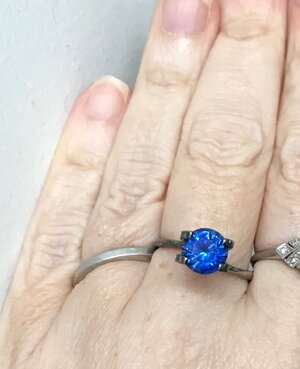 Last edited: