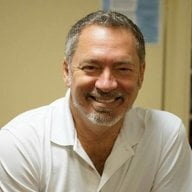 Joined

Mar 28, 2001
Messages

6,335
Good mornin Dave,
Date: 11/7/2006 1:11:49 PM
Author: oldminer
Paul, I was not trying to take you off topic. Sorry if you felt it was headed somewhere you didn''t want it to go.

The number of facets certainly changes the looks and performance levels of diamonds even when they grade AGS 0 or have generally similar Sarin readings. I only wondered if you felt that grading the quality of craftsmanship would be a good thing to separate from the grading of light performance?

I''d think people would care less about the number of Chevron facets, but would buy a diamond that looked great to their own eyes and judgment. Symmetry and craftsmanship are necessary to success of getting a beautiful stone, but the ultimate test is how a person feels a stone looks.

Diamond cutters might get ''accidental'' light performance, but I doubt they would try to have any accidents due to the risk and cost. Of course, one sees low light performance with excellent craftsmanship quite frequently. It seems you feel there ought to be a separation of light grading and craftsmanship grading. This was my own thought and I believed it went well with the thread''s premise of a craftsman''s choice in cutting along with getting a beautiful result.
I agree with your comments regarding grading the craftsmanship seperately from light performance/visual appearance/optics.
In essence GIA/AGS does it but only includes traditional polish/symmetry grading. Ie. in each of their systems a diamond can have Id/Ex polish/symmetry yet not get Id/Ex grade for the overall cut grade if light performance doesn''t meet the criteria established within the parameters they''ve laid out.
IMO the element of
optical symmetry
should be taken into account as well since aligning the facets on an optical basis requires a certain level of precision that you don''t necessarily need to have to get Id/Ex polish/symmetry. Factories that take these extra steps to ensure precise optical symmetry, IMO should be rewarded for their efforts. I wouldn''t necessarily limit the best optical symmetry grade for H&A types alone either. There are stones that don''t have traditional H&A patterning which are cut just as precise and have perfectly symmetrical patterns coupled with superior light performance. We''ve began to do this with each of the rounds in our inventory already.
Are you thinking along the lines of optical symmetry grading to be included in "craftsmanship" and do you also desire to apply this to squares like Princess Cuts? Curious to hear your thoughts. Perhaps some of us can get our heads together on the subject and develope a set of standards by which to grade optical symmetry in squares.
Peace,