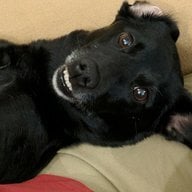 Joined

Sep 1, 2009
Messages

9,247
We just moved into our home in March and I kept all my furniture. I haven't purchased one large piece other than a desk from PB for my daughter's room. I'm embarrassed to say that my furniture is 8 years old or older.

I can't figure out what style I'm going for and I don't want to buy anything unless I'm certain I really like it. COVID has also made me not want to go out and look and because what I have looks okay imo, so I'm not in a rush.

I definitely think if your furniture looks good and is in style then maybe a change of paint color and wall decor/rugs/pillows may do the trick. That's basically what we did in this house.

But if you really want something new, try selling stuff on FB marketplace. I was able to sell a few things from my old house on there.

My living room set is 8 years old. I want to purchase something new but then we also don't use the room that much so part of me is like why should I bother.

My bedroom set and dining room sets are 19 years old! I finally just purchased a new mattress in May.

I know for sure I want to get a sectional for my family room but I can't decide on style, size and color. Our old family room sofas (from old house) we moved to the basement here and right now I have a sofa that used to be in our sunroom in the family room. It is 13 years old. The leather sides are scratched up from our cats and faded from the sun. Even my TV stand and shelves are 13 years old.

My kitchen table is 8 years old! I have cheap chairs from Wayfair bc of the cats. They scratched up my black leather parson chairs so I purchased chairs made out of plastic and metal!

Here is a picture of the sofa in the old house sunroom and now in my family room. In January I will have had it for 14 years.

Edited to add that the curtains are from previous owner so we left them up until I can figure out what I want. The bookcase in the old sunroom I moved into the new kitchen here.
Beautiful! I love both of those rooms.
Don't be embarrassed by 8+ year old furniture. I have always seen furniture as big purchases that can last many years. Some longer than others. Our "new" couches have been in our home for 12 years now. Both still comfortable and functional. We have to cover couches to protect from the cats & dogs anyway so most people have never actually seen our couches

I want to look at some new furniture after we move to the new house (whether we buy or build). Most of what we have will stay. A few pieces will go. Some is functional and looks okay so will probably stay just because I hate to replace things that don't really need it.