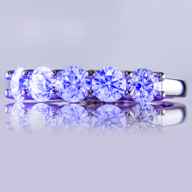 Joined

Sep 16, 2015
Messages

78
I went to a B&M jeweler to look at the brightness, scintillation, and fire of a few GIA Excellent cut and Very Good cut RB stones in the 2ct range. They tended to be deeper cut than the strictest standards, but not terrible either - they were around 62.8%. The pavilion and crown angles were not within the top cut range, but they weren't terrible either.
I could detect a slight difference in the sparkle between the Ex stones and VG stones under extreme lighting (100's of LED lights from above). I couldn't tell a difference when I moved away into pretty flat lighting of those long ceiling fluorescent bulbs.
How much more sparkle would I see in a top-cut (like a
WF
ACA
,
JA
H&A,
BGD
Signature, etc)? Will the increase between a typical GIA Excellent and a top-cut be a similar amount of improvement between GIA VG and GIA Excellent?
I am a huge fan of the PS "cut is king" approach, but I want to go beyond the ASET results and understand what peoples' eyes detect.