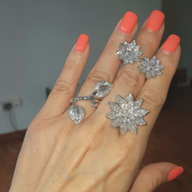 Joined

Oct 5, 2006
Messages

9,961
I was just wondering how you ladies and guys are dressed for work, clothes-wise, hair, shoes, jewellery etc., given your line of work?
I ask this because I used to be a real corporate person and when I was working in London for a large accounting firm several yrs ago (oh, I am old!

) and later in HK for a large MNC, I could only wear dark suits (black, dark navy blue and grey with an equally conservative blouse, hair had to be tied back if long (no wild colour or streaks or highlights) and shoes could not be more than 3 inches high for ladies and must always be close-toed (no sandals or open-toed shoes). The dress code was equally strict for the men. I understand that not much has changed since then

. When I was working, again, for another large a/c firm in Singapore, the dress code is a little more relaxed but still fairly low-key (translating to boring, for me at least

). Obvious or large/ noticeable jewellery would be discouraged. Of course, there are no written rules per se, but anything that sticks out will be frowned upon, sometimes literally

.
Today, however, I went to attend a meeting at a client's office, in my capacity as a freelance consultant, I was free to dress as I pleased, including dark red nail polish, highlights on my hair, my blingy 3 carat diamond solitaire, studs, open-toed high heel shoes, the works!

. Naturally nothing revealing, just clothes and accessories that I personally feel more appropriately reflect my personality and if the client doesn't like it, that's just too bad! He he.

I believe I should be hired and paid for my technical experience and ability and not be judged by the clothes I wear.