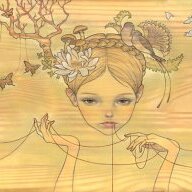 Joined

Apr 7, 2009
Messages

382
Hi everyone,
I am new to Pricescope, so please bear with me for my naive questions.
These are my favorites:
Been looking at websites, went to some shops, and come to the conclusion that I love the
DeBeers Forever with pave ering, but it is pricey and they don't allow our own diamonds which gives the customer little freedom in personalizing their diamond preference. I just love the look of the prongs, though.
here
and
love the
Ritani
Classic erings with pave settings, but the ring is so thin, I want something slightly wider.
here
Then recently went to Derco in SF (where I live), and found one of their erings with a high basket and channel setting (really small, like 12 RB at 0.17 carats that go about halfway around band).
Ultimately I am also in love with the custom designed ring one of the PS users posted from
Whiteflash
here:
https://www.pricescope.com/community/threads/what-are-your-thoughts-on-this-white-flash-custom-design.91099/
I really love the PS poster's
whiteflash
ering because it resembles the Cartier basket design, while still embracing the DeBeers Forever look. I ultimately would want DERCO to do the ring similar to the
Whiteflash
one, because I love the look of the
Whiteflash
basket and prong design. What is the etiquette with discussing these things with a DERCO designer? Can I show them the CAD and photos of the basket? Is the basket setting in the PS posting a "high basket?" The gentleman at DERCO said high baskets are the only basket settings made to allow a wedding band to sit flush with an ering, which is what I would like! But, I prefer the diamond to be set as low as possible like in the PS posting, because I don't like the look of erings with diamonds that stick out too much, it just looks weird to me.
Are there variations in basket designs?
Is bead channel a happy medium between a pave and a channel setting? I like the clean and sparkly clarity of the channel setting at DERCO, which were tiny channel rbs, but I've heard from many postings here that it is not a preferred look. So many people want pave, and I love pave, but it feels busy to me. I've heard of bead channel, but what is it really?
Sorry for all these mixed questions, I am a bit confused and picky maybe?
Would love suggestions, defintions, images, experiences with DERCO designers, opinions of whether
WF
is better than DERCO, etc.
I've been looking at everything here in past postings, and my eyes are tired. Found nothing that really answered my own questions directly!
Thanks much.