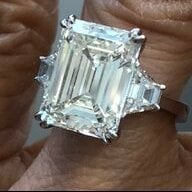 Joined

Dec 26, 2014
Messages

521
Hi, PSer's! I have the opportunity to upgrade my 4.12 I-color SI2 Emerald Cut diamond to a 3.40 D-color SI2 Pear Shaped diamond. My jeweler sourced six pears for me to choose from and this stone was the clear favorite and it's eye clean! Although it is lighter in carat weight than my EC, the face-up dimensions are actually larger than my EC so I don't mind. The stone is extremely light and bright with lots of fire and brilliance, gives off a rainbow of colors and has minimal bowtie which is barely noticeable in all lighting. Upon viewing the GIA cert, I noticed that it had a feather towards the point of the stone. I knew I'd need to have it evaluated for durability by an independent appraiser, which I did yesterday.
I told the independent appraiser that I was mostly concerned about whether or not the feather goes to the girdle (which is medium-thick, faceted), whether it breaks the surface and if it poses a durability issue. The IA said it is a great SI2 and a beautiful stone, which made me feel that much more certain that I'd want to keep the stone. This diamond was already in a platinum setting when I got it. She cleaned it and examined it under the microscope and determined that the feather does break the surface and extend to the girdle although it doesn't extend into the pavilion and it doesn't wrap around the point. Her advice to me was to return this stone and keep looking if I am uncomfortable knowing that there is a greater potential for breakage.
Sad news for me, since I've already been wearing the stone for a week and hate the thought of giving it back, although I can do that and wear my old ring again. The jeweler I'm dealing with is the only person with whom I can do a trade, since I bought my EC from him. He said he'd keep looking next week, but that he'd already evaluated everything available on the market (from cutters who will do memo) that would fit the bill for me...
Would you keep the stone, halo it to protect the girdle (which is what I was planning to do anyway) or return it? How likely is it that I'll find another stone with similar attributes that doesn't have "an issue"? Is it more of a "mind-thing" with the feather or is it something I should avoid in my diamond selection? I need to return it tomorrow if I'm not keeping it because the cutter wants it back immediately. Please HELP!!!