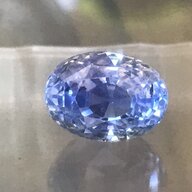 Joined

Jul 14, 2020
Messages

105
Hi there,
I inherited a sapphire solitaire pendant from my fathers side of the family (who died when I was young so is super sentimental). My mother handed it down to me before she passed away.
She said it was old and large but flawed so not really worth anything more then sentimental value. I used to wear it a fair bit and people would always comment on it.
One day the setting broke and the stone fell out - I only noticed because I stepped on it!!!!
(Yes I know - not great)
Since then it has lived in a box waiting to be taken to a jeweller for the setting to be fixed.
(I really like the setting but don't know if it can be repaired as one of the prongs is broken).
On inspection - the sapphire could be in better shape but I noticed how deep and cleanly it was cut and how brilliant the stone was out of the setting.
We weighed it and measured it and it came in at over 8cts.
(12x9x9) (weighs1.73gms).
Now here's the thing I'm going to get help with. It has what looks to be clouds? One big one and one small one. I thought they were like bruises from the stone getting impacted but they aren't.
I have tried my best to photograph them which seem to photograph better in low light.
In bright light you can't see them at all.
I have identified that it has silk but can't work out what the clouds/milky parts are and have googled it to death.
is it possible it's impact damage?
or is this indicative of the type of Sapphire it is?
There is also a large black mark/scratch in the surface I thought was caused by the setting when it broke but have since found out that isn't possible. ‍
Looking into getting a repolishing and a lab report but anything to work out if it's worth the cost involved honestly.
Excuse my pathetic photography skills - I'm working on it.
I will include a pick of the silk under the scope as well.
Thankyou for any help you can offer.
I find a lot of conflicting information depending on where I look.
Thankyou for any advice or knowledge you can offer.