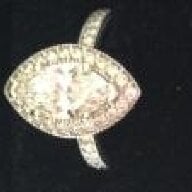 Joined

Jan 5, 2009
Messages

1,204
I have narrowed my setting search down to a LOGR ring but need some advice before I order it.
Lauren, I saw several of your gorgeous rings in the ''Eye Candy'' thread so, if you see this, please chime in! The one I want is similar to your split shank halo with the oec diamond.
First, the setting I like is a bit big for my diamond, it''s for a 6.5 mm and mine is just over 5.8. The setting has a 6 prong head, which I am not crazy about: http://hd65958.ourhost.cn/rings/setting/round/017b.jpg
I have asked LOGR how they size their settings down to fit a smaller stone and haven''t heard back from them yet...anyway, I like the more flush set look of Lauren''s ring: http://com.pricescope.com/photos/stones/images/3486/original.aspx
But I''m concerned that the opening for the halo would be too big to set my diamond like this and I don''t want the whole halo to be remade, smaller, to set it this way.
Do you know if LOGR would agree to use a smaller four prong head, that sits lower, to make it look more like Lauren''s setting? My diamond is not a very deep cut and it would look really silly in that huge 6 prong setting. Also, my diamond is a very pretty peachy champagne color and I was going to do the prongs in rose gold to accent the color (it looks dead in white gold) but sparkles like crazy next to rose gold.
And also, one more question. LOGR offers this setting both as a ''buy now'' and on auction. If I bid on it through the auction, will they still do customizing? I have to have it sized also. Do they just charge the $50 customizing fee onto what the winning bid price is? Or would I have to take it ''as is?''
Sorry for asking so many questions and thanks in advance for any advice!