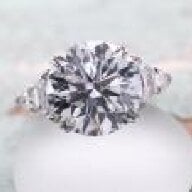 Joined

Sep 18, 2015
Messages

165
I know there are a lot of threads out there comparing the Tiff-style settings but my question is rather unique.
As mentioned in my other thread, I'm not sure I'm happy with my stone in its current 5 stone setting (although the setting is lovely) because I feel it takes away from the center diamond. I'd like to try setting the stone in a Tiff-style solitaire for a few months to see if I prefer it. I was leaning toward the Vatche U-113, but at $1800 for platinum it's a bit pricey IF I change my mind in 3 months which I am totally apt to do. (See my 9 million prior posts re my complete and total indecisiveness.) Since I obviously can't be trusted, I'm thinking I need to find a cheaper Tiff-style solitaire (and maybe choose WG) that is still proportioned enough like the Tiff/Vatche that I'll have a good idea of whether I prefer that type of setting. Then, if in 6 months I still like it (and what are the chances of that), I can sell the cheaper setting and upgrade to the Vatche.
So, with that in mind, can anyone recommend a Tiff-style setting that is both reasonably priced AND enough like the original that I'll have a good sense of style/proportions? I'm OK if it isn't the utmost quality since I will likely switch it out shortly anyway. So far the
Brian Gavin
replica is the lowest-price that I've found at $850 for WG. Do you think this would do the trick? Any others to suggest? I'd be thrilled to find a good one even cheaper.
Thanks experts!