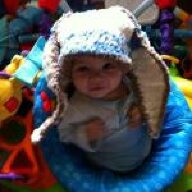 Joined

May 24, 2012
Messages

18
Okay, hopefully that was a good enough headline to get at least a few people in here to give me opinions about my situation. I am currently looking for an engagement ring. My boyfriend wants me to choose it because he wants me to love it since I will wear it every day for the rest of my life. Anyway, I have my wedding ring, ring wrap and a diamond band from my previous marriage. I am trying to figure out a way to get the current ring for as little money as possible because we are saving to buy a house. Do you know if any places that will take your old diamond and give you the value of the first towards the purchase of a new stone? I know that a lot of jewelers around here will do that but only if the diamond you wish to buy is worth double the amount your original diamond was. It would really be nice if I could just do a trade up for however much the difference is. Let's just condense this down for the ease of the responders I hope will join.
1. Does anybody know of a place that allows for a trade-up but without the requirement of being double the price?
2. Do you all consider diamonds That were in an engagement ring and wedding ring to be , this sounds a little too dramatic, CURSED?!
I have a.82ct. Radiant cut Diamond solitaire. If it will help anyone to see the GIA report, just let me know.
I collect gemstones and have a few that I wouldn't mind using as a center stone. Now, if I can upgrade my diamond, the. I would just get a solitaire. On the other hand, if I end up using a gemstone for the ring then I will want a setting That has diamonds. I think that contrast is important to making the ring look polished. If I did it this way, then all I would need to do is to find the right semi mount with diamonds. I really like the look of three stone rings. Anyway. The two stones are attached. I have some photos indoors and outside. One is a 7.5mm round tanzanite. The other one is a cushion cut blue and purple color changing sapphire. I feel like it could be a spinel, but whatever.
3. Do you think I would regret not having a classic diamond ring?
4. Any other suggestions or feedback that you all can give me will be greatly appreciated. Thanks in advance!
~Brenda~