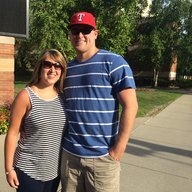 Joined

Jul 26, 2018
Messages

68
Too funny, those are seriously the two I had screenshot and sent to my mom. Plus the oval suspended in the split shank. Those were my three favorites.
My absolute favorite is the first one, the x shape. I'm a little confused by the V on the side of the diamond. It's almost like it's suspended and not connected to the band. Like typically in styles like this, the pave band may wrap up the diamond if that makes sense.
On the 2nd one, I could have it taper from large to small alternating round and baguette like I liked in the Shane ring. It does appear to have a slight gap between the middle and side channels which I like.
It does seem that the x shape or an option where it tapers to center stone like what you drew in the bottom could help lengthen my finger and accentuate the center stone.
And I think I could do a round or an oval in either of these. Maybe up my budget to get closer to 2 carat?


I would probably do less chunky prongs as I think those are distracting.
@farrahlyn
- What are your thoughts on wedding bands for these? I like how they are symmetrical and I feel like they are ornate enough in profile view that a wedding band may block that. I originally thought I may do a wedding band that I could wear on its own without the ring when exercising or swimming or traveling when I'm too nervous to wear my main ring. I could do my baguette round alternating in the band if I went with the pave x. Then, I'd have two totally different rings. So, ideally I just want one piece unless they need a wedding band and that would add to the overall look. Also, is there anything trendy or too vintage with these? I don't think so, but want your opinion.