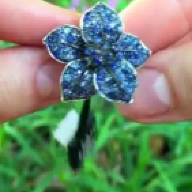 Joined

Nov 14, 2015
Messages

1,148
Pleeeeease!
I've gone from telling myself I'd never buy a unset stone because it's just so much hassle and I have no idea who would set it for me in the UK, to buying TWO loose gems last night!
I think I'm high on holiday spirit...
I brought a GORGEOUS amythest, link to video below. I also brought a yellow danburite (never heard of it till last night lol but the rarity factor snagged me) from yvonne, but we'll talk about the danburite later.
Now this amythest...its not a callibrirated cut so my hopes of finding a semi mount and taking it to a local jeweller to set for me...its looking a bit difficult right now. I am happy to search for such a mount if it's easier then going the full custom route.
The measurements: 12.52 x 7.05 x 5.32mm
The video:
https://m.youtube.com/watch?v=ycIpYJxtvaQ&feature=youtu.be
Please give me your honest opinions on the amythest (never thought I'd be into an amythest..I always go for the rare stuff...) and if you have any suggestions on what the hell I do with it now!