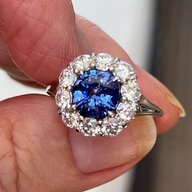 Joined

Aug 18, 2013
Messages

9,376
Hallo all.
I've seen this ring before but can't remember where. Perhaps you could help me?
It's a wedding ring - 3 rounds in the middle, with tapered baguettes on the sides. The three central diamonds are all the same size (between 10 and 15 points perhaps?), and the wider end of the tapered baguettes is only a little smaller than the diameter of the rounds. Ergo the progression across the finger is fairly smooth - from band to baguette to rounds to baguette to band.
If anyone knows this ring and can help me, I'd be very grateful! I have a feeling I've seen it about in yellow gold, but any color would be just fine!
Many thanks!