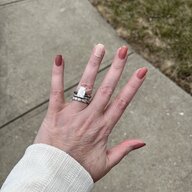 Joined

Apr 7, 2017
Messages

5,018
Thanks for the tag!

I would like to but the next few days / next couple of weeks are going to be crazy-busy for me

I've got to prepare for a job interview, meet a social worker with a friend (as he's going through court to try to protect his kid), have the job interview, get some shopping done before we are forced to wear masks everywhere, go to a birthday celebration afternoon, and then spend a couple of weeks drafting documents to be submitted to court...

Oh, and I have to take the good lady's car for it's annual MOT test, probably including the need to walk the five miles home from dropping it off and then the five miles back again to collect it... lol

And I need to sleep!

I'm not much use to anyone right now

and I need to stop getting distracted by the internet so I can sleep more and do more... lol

Sorry that's a bit crap!
{{{{{{{{BIG HUGS}}}}}}}}