I'm very close to picking my perfect upgrade stone at
Blue Nile
.
I posted
this
earlier but I mixed up the HCA images. Here are the correct images with the correct diamonds.
My priorities are cut, carat, clarity and color. But I would have to say even more important than size is SPARKLE!
My budget is around 12K. My current diamond is
0.91 VS2 Triple Excellent H color
. I have a 4.5 finger size. I am trying to choose between the following two.
1) A fellow PS pointed me to this stunning diamond which I put on hold (1.69 - H VS1): https://www.bluenile.com/diamond-details/LD12944265
The HCA Report looks good and there is something about this diamond that speaks to me.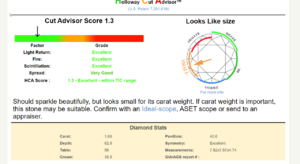 2) Here is another one I came across
(1.62 - H VVS2)
:
https://www.bluenile.com/diamond-details/LD14437662
I've requested an ASET on both but I'm leaning towards the 1.69 - something about it says its the one.
All your thoughts are appreciated.
Thanks!