Hello PSers,

So I have narrowed down my diamond search to a few diamonds at

Blue Nile

- this is where my upgrade is. My priorities are cut, carat, clarity and color. But I would have to say even more important than size is SPARKLE! I posted about this here already to get some opinions on what to prioritize in the 4cs! https://www.pricescope.com/communit...udget-for-round-brillant.260691/#post-4838600

My budget is 12K but flexible to 13K if the diamond is stunning. My current diamond is 0.91 VS2 Triple Excellent H color. I have a 4.5 finger size. I am trying to choose between the following two.

1) A fellow PS pointed me to this stunning diamond which I put on hold (1.69 - H VS1): https://www.bluenile.com/diamond-details/LD12944265
The HCA Report looks good and there is something about this diamond that speaks to me.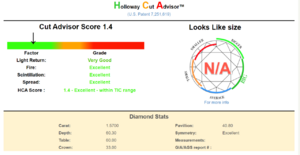 2) This one looked good to me at first glance and is cheaper (might be easier to convince the hubby...heheh) https://www.bluenile.com/diamond-details/LD13980130