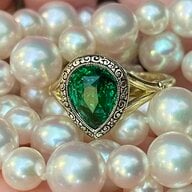 Joined

Mar 2, 2009
Messages

12,791
It occurred to me that I'm curious as to what kind of garnet is in my new ring. It's typically a deep and bright orangish-red giving off more orangey-red flashes, but if you look at the stone from the back, and in low light, you can definitely see some lavender tones at certain angles. You can also see a multitude of very very fine needle like inclusions, and small little air bubbles under the 10x loupe.
It's not nearly as purple as the other rhodolites I have, but neither does it look that the standard pyrope or almandine I see around in stores (that are usually much darker and brownish). There's also like a million garnet subtypes (and it feels like they keep coming up with new ones!).
Any ideas? I've googled it, but haven't come across any great articles on it.
And this article just downright made me laugh a little:
article
Here's the original thread with pics:
Thread