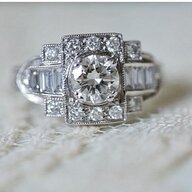 Joined

Dec 8, 2014
Messages

18
I'm looking for .5-.6 ctw studs and got in touch with ID jewelry. They told me that for .5 ctw, their natural earth-mined diamonds are non-certified but they will be providing a free appraisal signed by the in-house GIA Gemologist. I mentioned pricescope and they also said that Yekutiel will hand-select the diamonds to make sure I get the best sparkle. (And they do have an upgrade policy if I keep the receipt).
All of that sounded good to me, and I asked about the price for .6ctw. They replied that they don't have a .60ctw but they have this pair of .50ctw in stock and ready to ship.
Do you think these were hand selected? Or pre-set? How do they look from this pic and how can I tell anything about the quality of the diamonds? What questions should I ask?
I know these are small but it's a lot of money for me- they will be my only pair and I really need them to be cut well and sparkle.
Thank you!!