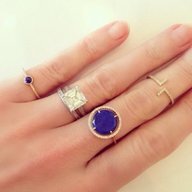 Joined

Sep 15, 2017
Messages

6
I got engaged last year and am now the proud owner of the most beautiful 2.60 carat oval diamond engagement ring; as I travel a lot for work I knew I wanted a replica of my ring made up to travel with. My local jeweler recommended I look in to moissanites as a possibility and after reading some good reviews on here I decided the Harro Gem was the one for me. The crushed ice oval was said to be the whitest in colour (no rainbow flashes) and the appearance of the stone to be the most diamond like, so I go ahead and buy the 11x7.5mm Oval in crushed ice directly from the Harro Gem website ($ 1,595.00)

Honestly when I received the stone I was completely in shock and I'm still absolutely flabbergasted as to how this company has so many good reviews! The stone was milky, glassy, no crushed ice appearance at all, I can honestly say I have better looking cz's than the Harro gem. I am beyond disappointed especially as the price is on the high side for a moissanite. I will take some pictures and a video to share.

Has anyone had this experience with the Harro gem? Does anyone have any alternatives that offer the most diamond like appearance with no rainbow flashes?