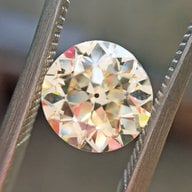 Joined

Dec 20, 2014
Messages

282
So, I recently decided to upgrade my first diamond -- a
Whiteflash
ACA
solitaire -- into a five-stone trellis ring. I've always had great experience with
Whiteflash
on the customer service end -- they're quick, responsive, thorough, professional, etc. I can't say enough great things about them as a vendor. I wasn't in a rush on this project, but they still turned everything around so quickly for me and were a pleasure to work with!
So, details on the stones: Becca helped me upgrade my prior 0.822 ct I color
ACA
to a 0.823 ct G color
ACA
. (I love warm old cuts, but I couldn't help but go for the icier colors for the MRBs.) The two adjacent to the center stone are each 0.4 ct H ACAs, and the two on the end are 0.25 ct each. I wear a size 4.25 on my right hand, and they made this ring for me in unplated white gold, which I just absolutely love now thanks to the PSers.
I'd been intending to wear this instead of my wedding bands and solitaire on some days, but I'm really enjoying how it looks as a RHR! I just received the package from
Whiteflash
this morning, so I'm still getting used to how the ring looks on my hand. It looks kind of big to me right now, but I assume DSS will set in soon (and that it even applies to five-stones!).

Anyway, really glad that this arrived today, since I've been having a stressful week at work. It really brightened up my Thursday morning!
First, one of the official
WF
photos:
And now, some shots with the iPhone and loupe in my office: