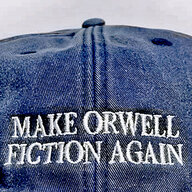 Joined

Apr 30, 2005
Messages

31,446
A diet is selection of food for people who are
thick
and tired of it.
I have a polish friend who is a sound technician.
And a Czech one too. Czech one too. Czech one too.
I watched a documentary the other day on marijuana.
It was hilarious, and the colors were
amazing
!
All documentaries should be watched this way.
Four million of these people enter our country every year.
They're uneducated, unskilled, contribute nothing, not to mention they're they're dirty and they smell bad.
They are a burden to honest hard working Americans like you and I, yet our government is doing nothing to stop them.
And, THEY DON'T EVEN SPEAK ENGLISH!

Man, I can't stand babies.
Last edited: