Hello and greetings!!!

PC lurker here moving to California from Iowa to change my girlfriend's last name in 2.5 weeks and need help finding this ring or very similar at a budget of
~$5,000
!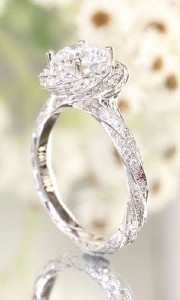 I was hoping some of you guys could give a quote on how much a Platinum ring like this would cost with the most affordable eye-clean diamond at 0.95-1.00 carat?
The closest to resemblance of this setting in Platinum I could scour is this one from
James Allen
at
$2,490
: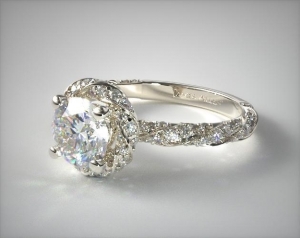 http://www.jamesallen.com/engagemen...-twisted-pave-halo-engagement-ring-item-41149
My budget on the engagement ring as stated above is around
$5,000
and that setting has already met 50% of that budget, which would leave me only
$2500
left to find a 0.95-1.00 diamond to top this beauty!

In short:
I would like a ring like the first picture posted with a 0.95-1.00 carat diamond on there at a budget of $5,000 for my lovely future wifey
OR
Help finding an eye-clean 0.95-1.00 carat diamond at ~$2,500-2,800 to go with the setting from
James Allen
... Thank-you in advance to all you PSer's!!!