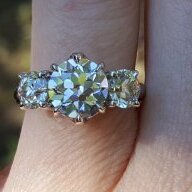 Joined

Apr 19, 2016
Messages

376
I've had my three disco-balls for over 2 weeks now, and wanted to share and give an A+ review for GOG, Jonathan, his staff, and the custom cut process. There were honest, fantastic, and everything I expected. I also have to thank PS!
About a year ago I began thinking about my upgrade. I had an EC ering and have a love for EC stones. I've never been a MRB person. I considered a bigger, badder, and flashier EC. But, then I found PS, and fell for OECs and the chunky flashes. I really wanted the precision and amazing optics of an extremely well cut stone, and that's when I discovered AVRs.
Stats
Center: 2.022ct G-VS2 (8.02x8.07mm); table: 50.8; depth 62; AGS 00 and large culet
Sides:
0.564ct H-VVS, table: 48.7, depth 63.9, AGS 00 and slightly large culet
0.596ct I-VS1, table: 50.4, depth 63.6, AGS XX and medium culet
Finger size: 5
Custom Cut Route
With an upgrade, I was in no rush and knew that it might be several months before I actually got my ring. In May, I started working with Charles to try to find a stone to be recut as an AVR. I really wanted 2 cts with the full 8mm diameter. Also, as a color sensitive person with my budget, I knew I'd have to aim for H, I, J (with fluoro). Eventually Charles found a no fluoro J-VS2 that would yield 2cts, but I flaked out because of the color. At that point, my DH let me push the budget a bit to get higher color.
In June, I bought the 2 sides when GOG suddenly had lots of small matching pairs in stock.
In July, I went the custom cut route for the center. My parameters were 2ct (8mm), ideally I-VS, ok with fluoro. After purchasing the rough, Jonathan said it would finish over 2ct, definitely I, possibly H, no fluoro.
And for those of you nervous about going custom, let me just say that wiring that amount of cash, with only a few emails to document the transaction, to someone you've never met is a big act of trust. I was nervous. It is not like buying a stone that already has the certification, ASET, and idealscope for you to look at. But after everything I'd read on PS and watching many videos, I felt very secure that Jonathan is an upstanding and honest guy that really wants his customers to be happy. I was shopping from out of state, so I communicated totally by email with Jonathan (and his staff), and he patiently answered all of my questions. So for any of you unsure about the custom process, just relax and enjoy!
The stone arrived at GOG from Antwerp in September. That's when Jonathan teased me with a video without telling me the results! You can see my stone in action on the GOG youtube channel. The video is called "Prelude to two beautiful new August Vintage products" posted 9/15/16. My stone came back from AGS at the end of September, and wowzers I got several surprises: The G color! The full 8mm spread! And a large culet to boot! I couldn't have been more thrilled.

Setting
I thought about a simple solitaire, but ultimately decided I wanted a ring that looked like Diamondseeker2006's AVR solitaire had a baby with Yssie's WF butterflies ring. So, I ordered the Vatche Royal Crown #308 in 90/10 Plat/Irid. Unfortunately, a few weeks later Marie informed me that Vatche couldn't find anyone to cast the 90/10 alloy mix, so I went ahead with their standard 950 Plat. The setting is amazing. It looks and feels sturdy and substantial. Very well polished. I like the patina of plat, so I'm not worried about scratching. Also, I couldn't be more thrilled with the claw prongs.
Other Thoughts
I feel like I got everything I wanted (and more, better color!). Thank you GOG! These stones are so bright and well cut. When the center turned out to be G, I panicked thinking I'd need to change the color of the side stones, but Jonathan assured me it would not be noticeable. And he was right. In person I honestly can't tell which is the I versus H in the side stones (without finding the AGS number using my loupe). The only time I see color in the sides is in some photos.
AVRs are very different from ECs. That part has taken some getting used to, but I LOVE this ring. Other than photos and video, I hadn't actually seen an OEC or AVR when I dove into this. After 2 weeks, I can say it's like walking around with your own personal disco balls all the time (which may or may not have light aimed at them). The big facets turn on and off, mostly on, but sometimes I do see gray under the table. Most of the time you can see the cute flower in the center (even in the small sides with my middle-aged eyes!), and they do pick up an amazing array of colors. They have a very different personality from the consistently clear pool of mirrors and steps that you look down into with an EC.
Anyway, I am super happy and cannot recommend GOG enough. Without further ado . . . .