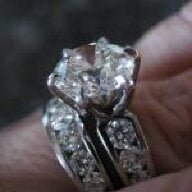 Joined

Jun 10, 2003
Messages

61
Could it be?? Is it true?? Only time will tell

I thoroughly enjoy reading the experiences and pictures other posters have shared so I thought I would share mine too since .... well this could be my last upgrade post!
My final upgrade at
Good Old Gold
is on my finger ("praise the lord" says the husband quietly as he smiles). I wanted to wear it for awhile to make sure this was *THE* one before having a custom setting crafted by Mark Morrell as its final resting place. It took four upgrades to get here which began in 2003 with a 1.237ct H&A RB. I always said that when I have MM craft a setting for my stone, I will never upgrade again. Well, guess who wants to send this stone off to MM pronto? The husband!
During the upgrade process, each visit to GOG was more than wonderful. All the time and attention we received was beyond anything I have ever experienced from our local B&M stores. Never any pressure and always a learning experience. Every visit ensured a droolfest on my part and I wanted to buy every stone placed before us. Every visit was professional and we were treated like we were the only customers in the store. I just wish I lived closer so that I could shop at my leisure for other pieces displayed in their store. It's all sooooooo very beautiful. I think we spent close to 3 hours in the store using all of Jon's toys and gadgets and trying to decide which stone looked more appealing than the others. It was so hard to pick because in the store, the lighting makes everything look great which is fabulous but it made it hard for me to choose.
I made an appointment based on my desire to see the 2.38ct H&A stone. Overall, it seemed to have what I was looking for and also to see a 3ct non-H&A stone. And then, all my best laid plans went out the window. A 2.75ct H&A stone was placed between them. *GASP* what was I to do? The best of both worlds, SIZE and H&A! It was almost a FULL carat larger than the current stone too. ARGH! I think my husband was more confused over which stone to pick than I. He prefers higher clarity over color (within reason) and size. Me on the other hand…… well let's not go there. He was leaning toward the 2.38ct H VS2 and I was completely smitten by the other two larger stones *cough* *cough*. In the end the 2.75ct I SI1 stone is the one we selected. For me, the true evaluation began when it arrived at my home, set in the old mounting, for me to admire in various lighting conditions. So far, it's a keeper. The numbers had me concerned but, as prior stones have proven, I realized I should not get hung up on the numbers and keep an open mind. Your eyes will dictate what you find appealing. It reminds me of my 1.51ct stone, which I liked too….large flashes reflecting off the stone. I haven't taken it out for a real spin yet just to work. I will say this though, it looks damn good under the light of an x-ray tube


.
I tried my hand at some pictures and will try and post them.