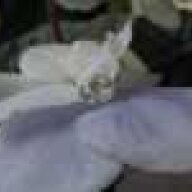 Joined

Dec 15, 2007
Messages

101
Hello,
I'm in the market for a pair of diamond earrings and am looking for something around 5mm in diameter. I originally wanted to try FICs but Garry recommended looking at shallow spready diamonds instead as they would be better as earrings. So...I looked a bit more and found these 3. All are GIA I's SI1-SI2 in the 0.42-.44 CW range, 4.9+mm in size. All seemed to score EX/EX/EX/EX and under 2.0 on the HCA in the TIC range. The first and last ones are Excellent Cut/Polish/Symmetry. Middle one is Excellent Cut with VG Polish/Symmetry. Unfortunately the site does not offer any images so I can only go with the numbers.

Sorry for the small fuzzy pics. Which one would you recommend? Too shallow? Appreciate if you can also let me know your reasons so I can get smarter

. If these aren't good, I'm happy to go look some more. Thank you!