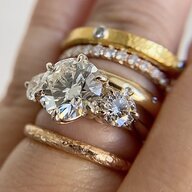 Joined

Jul 25, 2018
Messages

197
You have amazing taste! Congrats and enjoy!
Thank you! That's very kind of you.
amazing ring and stone!!! well done! enjoy it!
I am so enjoying it!
Gorgeous! And so white looking! I love the setting you designed...great upgrade!
Thanks so much! I am just thrilled with it!
Yep, yep, yep...videos are great and confirm: a beautiful stone, and a fabulous setting! Well done.
I'm glad you liked the videos! They were blurry at first. I hope they aren't still blurry. I don't get YouTube sometimes
It's gorgeous!! Enjoy this beauty!
I will. Thank you!
Just gorgeous, perfect carat weight too. Enjoy wearing that beautiful rock
Thank you. I think 2.5 is good. I'm done. For now.