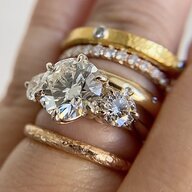 Joined

Jul 25, 2018
Messages

197
Hey. It's crazy out there. First and foremost, take care of you and your loved ones.
Before we got put into shelter-in-place, I was helping a couple of my guy friends out choosing a diamond for their soon-to-be-fiancés earlier this year. (Long story short, both didn't go with my suggested vendor; despite my compelling reasons. One even went with a vendor who cried "GIA XXX is all you need" and who didn't know what a Idealscope or ASET was. Gosh, that one hurt *ow*.)
Along this journey, I became wrapped up in the land of 2.5 ct stones. I was looking in stores... looking online. I was dreaming about them. If you recall, I upgraded from a 1.6 H VS1 to a 1.988 G VS1 in October last year. The last upgrade to 1.988 was because I wanted something to remember my dearly departed dog by (my heart dog) as she died at not even two years old.
Since then, we've added another dog, whom I love very much. He has shown me light and helped me heal. I thought about getting a separate piece of jewelry specially for this pup. But alas no, that wouldn't do. Let's wrap up all my "special beings" into one piece as separate is no good as far as symbolism (for me) goes. *light bulb!*
I always thought I was a high-color gal. Right around the F/G range was where I was happy. But I started noticing all these I color stones on PS and when I looked closely at pics, they looked so white! Interest became obsession.
Luckily, it was short-lived as I saw this insanely bright looking 2.58 I VVS2 on WF. I laid eyes on it and messaged my WONDERFUL WF rep to put it on hold. Thought about it for a night and then decided to take the leap; just like that. I was able to get some comparisons between my 1.98 and the 2.58 and to my surprise, the difference in photos was minuscule to me, when face-up.
Deets:
2.584ct
I color
VVS2
8.88x8.96x5.39
Setting: custom-design, platinum, size 6.5, with a faux halo/gallery, split shank that is 2.5mm to 3mm from shoulders, brushed finish, euro shank.
Major SHOUTOUT to Whiteflash for completing this project early and before the shut-down. I am so glad to have this safe on my finger. I do need to send it back as the 6 prongs need some work; they are not laying totally flat on the crown, there is space and more fuzz than acceptable is catching. Despite this issue, I am beyond pleased with my choice! I think I'm finally done.
Pic heavy! Thanks for letting me share. We all need a little sparkle to get us through these surreal times.