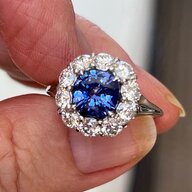 Joined

Aug 18, 2013
Messages

7,833
Thank you,
@anne_h
! Wrist shots are coming in the next few days. I had hoped for today, but Fedex is dragging the chain, as per usual....
Thank you,
@Mcgregor
! I cannot tell you how long I worked over this piece - nor how many iterations I tried! I'm *very* happy with how it turned out and I think it will work well with other rings and bangles I might wear it with. So it's definitely found its home with me!
Hi
@MakingTheGrade

Y'know, I actually thought of you when I saw this finished piece. I thought it would be right up your alley, as I know you like things that are individual, quirky, and outside the box. I could see you doing something like this, but with your own style of charms. I'd love to see that; your taste is so idiosyncratic and fabulous!
Last edited: