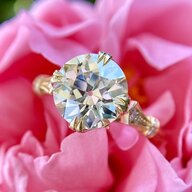 Joined

Dec 17, 2018
Messages

32
My fiance proposed at the end of November and I am finally getting around to sharing my beautiful engagement ring!!
Here is a link to my original thread with CADs and videos of the center stone:
https://www.pricescope.com/community/threads/owd-cvb-modified-chloe-e-ring-videos-cads-the-wait-begins.251781/#post-4637707
Center Stone Details:
Old World Diamonds
2.17 GIA M VS2
8.26-8.31 mm
44% table
62.5% depth
Setting is from CvB (size 6.5, 18k yellow gold). Caysie worked with my fiance starting with her Chloe setting and modifying it to become my perfect engagement ring.
I can't believe how delicate this ring is in real life. Everyone is amazed when they see it! So many details in such a small package. And the stone is such a performer, I wish I could capture it more accurately in photos but it is so difficult! I have a macro lens that I use on my iPhone and it completely blocks the light... maybe I would have better luck if I pull out my big camera so I don't have to get so close to the stone. But for now I will post the photos I managed to get.
Excited to shop for a wedding band to compliment this gorgeous ring!
First, here she is with my little Christmas Niffler of course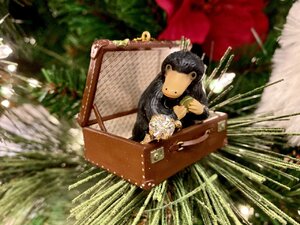 (More photos in the following posts)
Last edited: