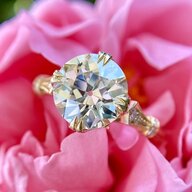 Joined

Dec 17, 2018
Messages

23
The wait is torturous but luckily Pricescopers exist to share the pain!!
My SO worked with Adam to source an OEC, details below:
2.17 GIA M VS2
8.26-8.31 mm
44% table
62.5% depth
My bf was nervous to start the diamond selection process but said he loved working with Adam and he helped put his mind at rest. Adam showed him multiple stones but specifically said he really loved this one. Described it as having a perfect cut, gorgeous pattern, and very crisp. Of all the stones, Adam said this would be his personal pick of the bunch! So my bf took Adam's word on it and pulled the trigger on this one. He had it sent directly to Caysie.
Videos from Adam
Video from Caysie (She said that her macro lens is what created all the darkness in this video. Caysie said this stone is super bright in person with lots of performance and presence!)
For the setting, I had exhausted myself with the many different rings I had fallen in love with. The second I thought of a setting as "the one," I would soon start to doubt my choice and think of other rings I might like more instead. I decided to take a break from the pressure of picking a forever ring. Eventually one ring stuck in my mind. Now I have no doubts that this is the perfect ring for me!
CvB's Chloe setting in 18K yellow gold with some modifications. I wanted the prongs to be set N/S/E/W, I wanted the shank under the shoulder petals to curl out around the donut
without
looking like a split shank from the top view, and I wanted less milgrain around the top of the basket and none on the prongs. Caysie translated my wishlist PERFECTLY on the first try.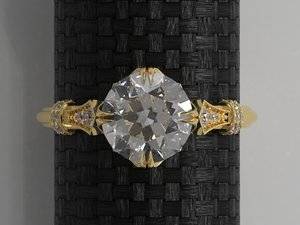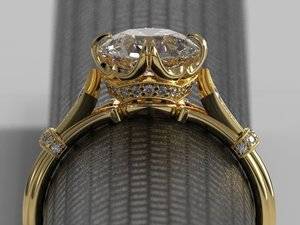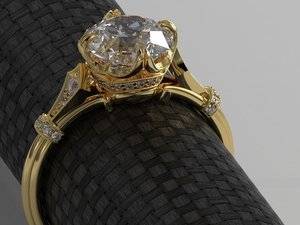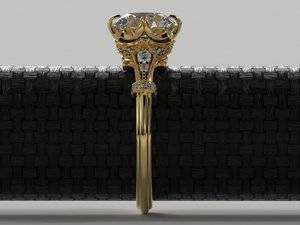 The ring is currently in production and I won't be able to see the finished product until my bf officially proposes.


The days have never felt so long! haha