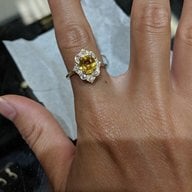 Joined

Jun 20, 2019
Messages

98
I know bezel, milgrain OEC pendants are not new, but after admiring the many here on PS, I have one to call my own, unique, and custom version *cue happy dance*! After learning and seeing so many beautiful OECs, I put it on my long term wishlist to see what the fuss was about. An eBay opportunity came up last year and managed to fit within my yearly bling budget and was also 1+ carat (also kind of on my wishlist, but I didn't want to touch my e-ring either, which is less than 1 ct). That story is here:
For anyone who likes specs, finally sent this in to the jeweler's for GIA certification and pendant reset! Only took a year! Shape/cutting style: Old European Brilliant 1.24 ct (6.65 x 7.07 x 4.08 ), M, VS2 Good polish, poor symmetry, no fluorescence A little surprised (but also not too...
I'm pretty sure I looked at every single pendant on the forum for inspiration and nothing really stuck out to me. I decided to go custom because I wanted something very wearable, and if I was going to wear it a lot, I wanted to love it. I spent more than a year doodling and waffling between ideas, but all I could settle was on:
- sliding, floating style (no bail)
- floral, delicate look
- open back
- 14k rose gold
- milgrain bezel
I almost went prong because I didn't want a chunky bezel, but after a 5 second consult with DH, he said he liked the milgrain bezel better than a 4-prong so I went back to my instinctive choice of milgrain bezel.
With the rave reviews I did consider David Klass, but I also knew I wanted the stone GIA certified so I didn't love the idea of shipping cross country back and forth while there being so many issues with pandemic shipping as it is. I went with a jeweler who has done custom stuff for me before, and had a good idea of my preferred aesthetics already. I gave her my wishlist and non-negotiables and traded emails and inspiration back and forth until we came up with this version. It's everything I wanted without knowing what the final piece could look like when I started the design process! I love that the diamond is visible through the bezel - even the view from the back is florally! It slides well (1 mm cable chain), and stays flat mostly. Occasionally I think it does slightly tip, but rights itself with any movement. I can't believe how much more lively and brightly it shines in this new setting. I was worried the rose gold would tint it (as an M) more so than the previous white gold setting, but I think it looks worlds better now. Almost can't believe it's the same stone! Sorry for the rambling, but I'm just so thrilled and obsessed with it!