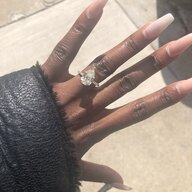 Joined

Jan 14, 2020
Messages

8
Hi all. I'm in love.
It's been a super long journey to my dream engagement ring. At first, we were going to go cheap with moissanite. Then we were curious about lab diamonds. We then ran into a jeweler who had a natural 3ct E SI1 pear that actually quite lovely, but he was pushing a certificate from an untrustworthy grading lab. He sent it to GIA and unfortunately it came back I1 F. He didn't want to alter the price at all either (even though we were likely to back out anyway).
It was really helpful seeing all of you with warmer stones (K and under) on here, thank you! They're a bit tough to find in person so I took the gamble and don't regret it a bit. For those of you who may like a warmer stone, give it a try - especially those of you who like yellow gold and/or have darker skin!
She is a 3.00 carat VVS1 pear brilliant with very slight fluorescence, "excellent" cut based off proportions. Sparkles like MAD - if you keep her clean!! I've purchased a jewelry cleaner from Amazon because I see such a massive difference when freshly cleaned (especially by a professional jewelry store - I was drooling when the VCA rep was kind enough to clean it for free) vs not. The color is definitely concentrated at the head and point, as I've been warned by this community. The a bit of a chameleon to me when it comes to the warmth of an L.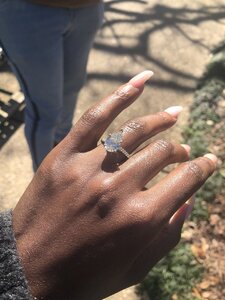 Bright, sunny day.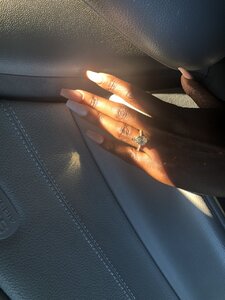 Sunset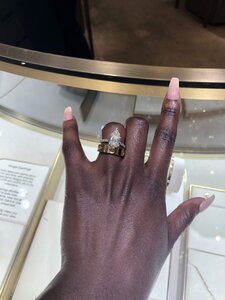 Trying on potential bands in Cartier. This is the three diamond love ring.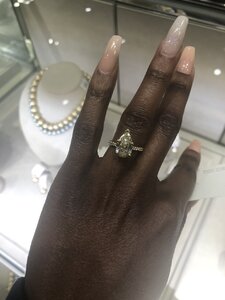 Worse lighting in a different store. The less light, the warmer the stone.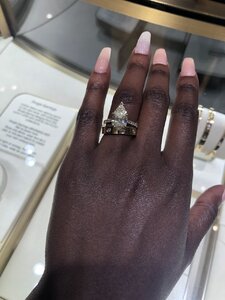 Love band.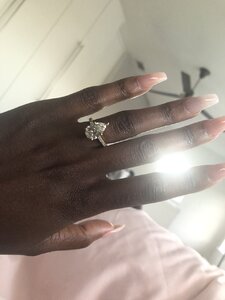 Good morning from bed!
I will come back with video later! Taking all wedding band suggestions haha.