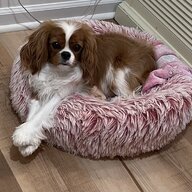 Joined

Aug 12, 2005
Messages

17,744
Christa, thanks for sharing that link! Any guesses on Essie''s ring? Looked like a big ol'' cushion cut to me...

She is soooo beautiful--I hope I look as well turned-out as she does when I am her age!
I have Espresso Your Style on my toes this week and it''s holding up quite well...and Mademoiselle on my hands, also looking good after 4 days! I''ve been pretty much limiting the Wicked to weekends here and there, since it shows chips and wear so quickly, but I LOVE it.

Mara, you''re totally right about the dark colors bringing attention to your hands and making your ring pop, I''ve noticed the same thing. Tonight I was watching a Smashbox show on QVC or one of those shopping channels and the gal who was doing the brow demo had on a verrrry dark color and it looked fab!