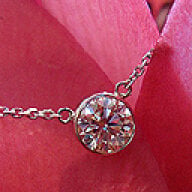 Joined

Oct 30, 2002
Messages

31,003
I know we have a few other threads that talk about nails and colors and stuff but the only other fave color thread is in the LIW and I know not everyone goes in there...

So I wanted to start this one fresh because I have two new colors that I just LOVE that I got last week at the beauty supply store.

I am a total pale pink whore and am always looking for new sheer pinks or similar to wear on top of my natural nails. I love Mademoiselle from Essie, and have a few other Essie colors that I use religiously. Vanity Fairest and LimoScene are two others I really like. I also use their white for my french manicures as well.

So right now my nails are short and blunt with just a tiny white line of nail showing for summer...it makes my hands look cleaner as with summer heat and all that my nails tend to get dry if I grow them out.

So the two that I got last week are Pink Glove Service and Room with a View. PGS in the bottle looks like a bright bubble gum pink but it's very sheer, so sheer that 2 coats of it looks just like the barest touch of warm pink on my nails. I love polishes like that because they not only work on their own but you can put them on top of other more strong polishes to tone them down a bit or jazz up nude colors a bit as well. The Room with a View is a soft pale sheer pink but with a tiny bit of opalesence to it...where it has that shimmery pearl tone to it. I had my nails done last nite at the salon and I chose an orangey browny color from the chair while they were working on my feet and I didn't like it at all when it went on, it was too bright and horrible. But I am sooo not the sort who likes to make them take it off and redo another color esp when it was my choice, hehee. So I came home and put this RWaV on it and it is PERFECT now like a soft shimmery pinky orange coral.

So anyway, anyone got any new fave colors or ones you haven't listed before (or ones you did but want to list them again??). I am always on the lookout for new stuff!! I love doing my nails even when they are short because my rings look SO much better on cared for hands!!

I figure my hands are accessories to my bling.