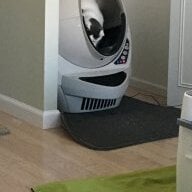 Joined

Jul 27, 2011
Messages

6,586
I wanted to start off with a big thank you to Pricescope and all those who contribute to it. I learned so much from everyone! In return, here is my contribution!
In September 2010, with the help of Todd Neuhaus from Union Diamond, I found my beautiful diamond! Fi and I decided that we would put the bulk of the budget on the diamond, and picked this 3-stone setting as our temp. setting (back in September, I believe this setting was closer to $400
... not anymore due to the price jumps!)
Here are the diamond specs:
GIA
Shape and Cutting Style: Cushion Modified Brilliant
Measurements: 6.65 x 6.62 x 4.09 mm
Carat wt: 1.51 ct
Color: Natural Fancy Yellow
Clarity: VVS2
Polish: Excellent
Symmetry: Good
Fluorescence: None
At that pre-Pricescope time, my "mind clean" goals were a square cushion, more than 1.5 ct (ooo... exceeded by 0.01ct!), and LxW greater than 6.5mm. The VVS2 was a bonus. And I wanted lemon yellow, not butter beige! This was pre-Pricescope, so I did not know about the existence of assets and other informative documentation that is available for diamonds. Luckily, my sales rep really listened and guided me through the process. UD also had a good return policy. Upon receipt of the ring, I brought it to an independent appraiser, Barry Block, who also turned out to be a Pricescope recommended independent appraiser, who verified that the diamond matched the GIA report and that I had gotten a good deal!
I felt special because after we got this ring, I saw that Union Diamond had put the picture up on their FB and website - call me corny!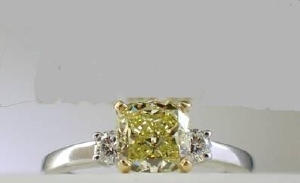 While I was diamond searching with Todd, I started googling reviews of UD, and found Pricescope! Through Pricescope, I got infected with DSS, and learned that sometimes halos can cure DSS!

(smiley + halo!)

I had never seen a halo'd ring before Pricescope - the closest thing I can honestly say I had seen in real life at that point that resembled a halo would be the pizza crust of a pizza pie.
(even I have to roll my eyes at myself sometimes!). I became obssessed with halos - I had a bunch of the halo threads open on my computer, and each night before bedtime, I'd scroll through a few pages.
I took my halo bug and then infected my mom with it. She then got not one, but THREE
BGD
halo rings with signature stones between Feb 2011-April 2011. (My dad probably does NOT thank Pricescope for that one!)



. (One of these days, when I can corner her, I will get finger shots to go with the glamour shots, and post them. If it were not for Pricescope, I would never have learned about
BGD
!)
As I was flipping through the halo topics, I came upon this halo:
https://www.pricescope.com/community/threads/my-co-workers-new-bgd-halo.134273/
. It was my dream setting!


. All that milgraining, especially the double in the center made me go gaga! I saved it and e-mailed the thread to my fiance, he liked it too. I was also excited about the prospect of working with
BGD
, too. This was early 2011. THEN the crazy price hikes... A custom setting with
BGD
would be way out of what I deemed a reasonable budget, and I was very disappointed
Although I had planned on resetting my cushion at a much later date (a couple of years down the road), the rapidly rising prices really forced my hand. Through Pricescope I learned that halos that looked like this
BGD
halo were Tiffany-Legacy-inspired halos, and that many other Pricescope vendors could create a similar halo. Ultimately, I went with ERD because I wanted someone in NY (where we live), and since this was going to be my "forever setting", I anticipated the ring needing some maintenance through the years, so I wanted to keep the vendor local. Also, ERD had a very competitive price for what I wanted executed, and since their specialty was cushions, who better to leave my "precious" with? Also, I wanted the setting to be made to conform to MY diamond, and ERD, as cushion experts, understand that cushions come in different shapes - i.e., some are more curvy, more angular, etc., so they intended on creating the CADs around my diamond.
Setting design - I knew I wanted a legacy inspired setting. I wanted the band to be half eternity because I didn't want to "feel" the diamonds in between my fingers, if that makes sense, and since I'm clumsy, I could foresee myself knocking melee out of the bottom of the band all the time. Adding to the clumsy factor, I wanted a yellow gold bezel around my diamond to protect it. I also wanted milgrain around the bezel in the center. I initially wanted a white gold setting, but the prices jumped up so much that the difference between white gold and platinum was negligible, so, with the help of my fellow Pricescopers, (see the thread below), I decided on a PT950/Ru blend.
https://www.pricescope.com/community/threads/legacy-inspired-setting-white-gold-or-platinum.163838/
Initially, my e-mails were answered by Mark. After I committed to ERD, my correspondences were handled by Chris. Chris has a cool, laid back style which really complemented the rabid-chihuahua that came out of me during the setting process
(kidding! - I wasn't THAT bad...

). I felt very confident dealing with Chris due to his vast experience with Vatche. He assured me he was not going to let me walk out with an ugly ring from ERD, because that would be really bad advertising

. He pretty much provided me weekly updates about my setting and where it was in the process, and was quick to respond to any questions I had. I couldn't have asked for more!
I know I'm rambling, but this is like a proud Pricescope moment for me - my first "Show Me the Bling!" topic! And now the good stuff...
CADs!!!