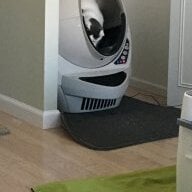 Joined

Jul 27, 2011
Messages

6,586
Hi,
I'm in the process of getting a Legacy inspired setting for my yellow cushion. I've already decided on a milgrained yellow bezel around the cushion to enhance it's "lemony-ness". Since I'm not a fan of yellow gold jewelry, I wanted the balance of the ring to be in a white-ish colored metal. Yesterday, I made up my mind to go with 18K palladium white gold. However, I'm starting to have second thoughts now. In the past, when there was a greater disparity between gold and platinum setting prices, I would definitely have gone with white gold. However, in this case, the difference in price between the 18K white gold and platinum settings is around +/- 10%. I am not sure what the platinum is alloyed with, but only know that it is 950 Platinum.
WRT my lifestyle, I'm a bit spastic, and bump into things, which is why I'm opting for a bezeled halo to protect the diamond as opposed to keeping it in a prong setting (and to account for any DSS!). I would wear the ring to work on week days - office job with papers and typing. As soon as I get home, all jewelry comes off. On the weekends, I'd possibly wear the ring when going out. At home, I never like anything on my hands when I'm taking care of domestic chores.
Also, maintenance of white gold would require re-rhodiuming, while platinum would require polishing and possibly reshaping into a circle, right? Which ends up being more cost efficient in the long run?
What do you think would look best for this style of ring, while taking into consideration my lifestyle and the maintenance that would be required for the ring?
Thanks in advance!