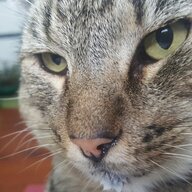 Joined

Apr 30, 2019
Messages

5,679
I try to buy only organic local meat, and buy duck eggs from a local guy who drives into town once he has enough orders, and I buy unpasteurised milk and butter.

But my main splurge is on truffles... oil, salt, grated, mixed with brie, veined in pecorino, on crisps/chips... if it's an ingredient I will buy it.

What rums are your favourite? I only coped with lockdown because I knew we had a good stash of rums and stouts. I am partial to zacapa xo, and the Nicaraguan Rum flor de caña, anything over their 12 is good. I lived there for a year back in 2006 and the price used to be 21 usd for their top tier 25 year old. It has shot up in price since then.
We don't have the greatest selection of rums here but i like to try different Cuban/ Carribian rums
The exchange rate is terrible and booze is taxed alot here
I don't really know what im doing, i just look at the top shelf and pick one that takes my fancy
but would never go back to Captain Morgan or Malibu even when im making Christmas cake ! I make Christmas cake with the Cuban Havana club (not Bacardi) and its the one i like in my coffee and hot chocolate but otherwise i like to sip a rum straight
my father in law was particularly found of Appleton estate
Presently i have half a bottle of plantation pineapple rum but it cost $100 so im trying to keep it and not squander it
Id like to find a nice spiced rum, i found kraken a bit too rough
Last time Bruce Springsteen came here i went down to christchurch to stay with my sister and we went out to dinner with a friend off my Bruce Springsteen forum, unbeknownst to us till after we had eatten dinner it was a rum bar and had NZ's biggest selection of rums
It was heaven
I only hope with covid the place is still there next time im down that way