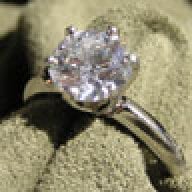 Joined

Sep 19, 2006
Messages

174
I am thinking about getting an eternity band and have a few questions...
First of all, I''ve looked at the signed pieces website many, many times and think that is the way to go. One of the main selling points for me is their return policy. Based on my research of previous posts, there are many PSers that have had good luck with them.
Are there any other online vendors I should consider? I want to go with a vendor with a good return policy in case this ring is not what I want after it arrives.
A friend of mine has a beautiful one that I was trying on over the weekend. We were out for the night and it was so sparkly on her hand in various lighting situations. She wears hers as a wedding band with no engagement ring and hers is 1.7 ctw with 24 stones so .07 for each stone.
I wear my e-ring (2.4 ct in Stuller Solstice 6-prong kinife-edge setting) with a thin platinum band (also knife edge). I still plan for this to be my every day look. I want an eternity ring for times when I want some extra sparkle when I go out. Given that it will not be worn every day, I''m struggling with how much I want to spend. I thought my friend''s ring looked good paired with my e-ring. Is there some "general rule" as what size stones would be good in an eternity band in proporton to your center stone. I want my eternity band to be large enough to stand alone but also not to take away from my center stone when I want to wear them together.
Any recommendations or pictures with similar sizes anyone would like to share?