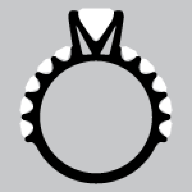 Joined

Apr 12, 2011
Messages

25
I understand that in general handmade rings are of much better quality than CAD designs, but i'm trying to figure out how much better in my specific situation. I really like the U prong eternity bands at
whiteflash
(with some slight customization)
http://www.whiteflash.com/wedding-bands/annettes-u-prong-eternity-diamond-wedding-band-805.htm
. For a style like that, what would be the advantage in getting something handmade? would the diamonds be held in better? would less metal show from the top? or is this a case where a CAD design just works better? i honestly have no clue so any help would be appreciated.
in terms of finding vendors, i'm planning to speak with
WF
,
BGD
, and ERD for cad quotes. i'm not sure who i should look into for a handmade quote so help there would be appreciated as well.