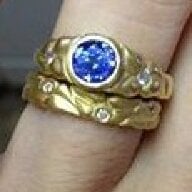 Joined

Jan 23, 2008
Messages

3,540
I had this all written up and then a photo didn't upload properly and then I lost it all
Lets try this again!
Here is the link to the LIW story and a few pictures (including the wooden ring he whittled me on our camping trip that he proposed with).
[URL='https://www.pricescope.com/community/threads/signing-off-at-17.164135/']https://www.pricescope.com/community/threads/signing-off-at-17.164135/
[/URL]
Specs on the ring: Circa 1930's fishtale prong setting with a 1.64 H VVS1 RB diamond size 4
For those of you who don't know the story I really love to share it because my ring came from the second hand market. We bought it just a few months after dating from a well know resale site and the seller had good feedback and had also consigned a few things with JBEG so I was comfortable that I was getting at least what it was being sold as. I brought it to an appraiser and it turned out to be better than her estimate. It took forever to find a wedding band for it and I found it as a set that the seller was willing to separate from circa1930s.com. The entire set (band included) cost well under the 6k mark for everything (we bought it not this summer but last summer before all the price increases) and we were very happy we did so because with the price increases we wouldn't have gotten anything close to this for the price we paid.
The stone isn't 100% ideal cut, it's a bit shallow (so faces up larger) but displays arrows and sparkles like crazy! I wasn't a RB fan and really wanted a OEC/OMC but when I saw this ring my heart skipped a beat. I still love older stones (my earrings are OECs and I have an OEC/OMC snowflake pendant) so I'm happy to have a variety.
I feel very blessed to have something of not only this high of color/clarity but also size. I was nervous about how large it would look on my finger because of my ring size but I'm happy to say that I've adjusted just fine

So for the more adventurous souls make sure you do your homework if you are buying from the second hand market but there are deals to be hand if you know your stuff

Take it to an appraiser and make sure there is a return policy if you need it.
Now onto the eye candy!