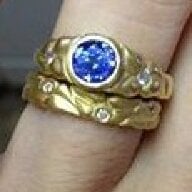 Joined

Jan 23, 2008
Messages

3,540
Well ladies it's happened! After having the ring for over a year and dating for 1.5 years the ring is now on my finger! And he was more than worth the wait

We went on a hard core camping/canoe/backpacking trip and on the last night there while looking at the stars he proposed to me. He had written a note on how much he loved me (it was dark so he didn't have it with him) and he also spent the week whittling a wooden ring for me (not yet completed but he's working on it). He didn't use the wooden ring he made bc it wasn't up to par in his eyes (he's a perfectionist) but I LOVE it and can't wait for him to finish it (doesn't fit on any finger bc it's so small lol) but it was sweet, romantic and very us! He had told my dad and his dad before, so most of his family was already aware of it by the time we returned from our trip. We had a surprise b-day party for one of his family members so I got to wear my ring to it and the rest of the family who didn't know, found out that way.
Wedding details are under way although we haven't set a date yet. Probably by the end of the year but it all depends on where/when/how we want to do it. Right now just enjoying being engaged!
Specs on the ring: RB 1.64 H VVS1 in a circa 1930s setting with fish-tale style prongs. Ring size 4. The ring came all put together and it actually displayed beautiful arrows. Hopefully the pictures will upload. It's much more delicate in person and the milgrain is so tiny! The photos make them show up really well but it's much much finer than in the pics. I feel so blessed to have such a beautiful amazing ring (and large to boot!) but more so I feel very blessed to have such an amazing man in my life.

I never knew what unconditional love was until I met him (we knew right away we were meant to be together...crazy I know!) that treats me like a princess, tells me I'm beautiful so many times I day I lose track and goes out of his way to make me feel like I'm the most important person in the world.
Good luck to the other LIW and DUST to everyone!