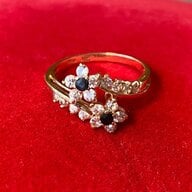 Joined

Oct 31, 2021
Messages

259
Girl.
You have to calm down.
I get it. You love your piece and the thought that something might've happened to it is excruciatingly stressful. But nothing's happened to it. It's okay.

Remember - an emerald can be cleaned from the oil that's inside of it very quickly by a jeweler and new oil can be applied just as quickly. You don't have to throw away the entire stone when the oil is done for, you just re-oil, and that is if you even want to.

Second, the oil is transparent. Any additional coloration added to an emerald is a BIG no-no and I don't imagine Tiffany would sell such a stone. If the oil is removed the only thing you'll see are more inclusions. That's it.

And yes, what you're seeing right now is a window. That part of the stone isn't devoid of colour. It's just that light is passing straight through it, as if through glass, instead of being returned back.

Now, for the sake of your blood pressure, breathe, put on your beautiful pendant and enjoy life as if nothing has happened. Because it hasn't.