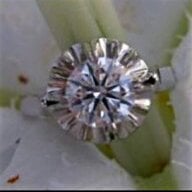 Joined

Nov 17, 2009
Messages

2,730
My birthday is coming up in less than a month and this year it's more meaningful than ever! During the past year I had to deal with many challenges and finally things are looking up for me! I'm super excited to celebrate life and feel grateful for being healthy again!
The one person who is even more excited than me for my upcoming birthday is my mom! She had mentioned that she wanted to buy me something special for the occasion and she had been asking me what I'd like but I never answered! Finally, last night she called me and handed to me a leather jewelry box. Inside she had put a set of emerald and diamond ring and earrings, which was a gift to her from my father for their 30th wedding anniversary. She said that this was my early birthday gift!
Honestly, until this moment, I can't believe that she actually gave these pieces to me! I am delighted! They hold a great sentimental value for me, because I was present at the moment that my dad gave her this set. It was 25 years ago.....
The pieces have scratches and they need professional cleaning for sure. I hesitated to put them in my ultrasonic cleaner, because I know nothing about emeralds and I was worried that I might damage them. I have read here on PS that overall emeralds are soft and sensitive stones, so I'd rather take them to my jeweler, just to be on the safe side.
Even though the pieces are not clean and require polishing, I couldn't resist sharing them with my PS friends!
Here are some pictures: