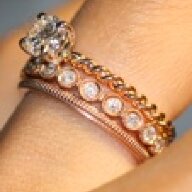 Joined

Sep 14, 2008
Messages

114
I really wanted a new look from my original e-ring. With my diamond upgrade year & years away, I decided to reset my e-ring to a david yurman-esque rope solitaire, similar to woobugs and some others I have seen posted on PS.
Well I just got pics back and need some honest opinions!
I had asked for an integrated basket, but looks like I got a peg setting. I spoke with the jeweler over the phone, telling him it looked nice, but it wasn''t what I had envisioned in my head at all. He said that he could alter it. We agreed for him to send me the current ring, and if I was unhappy - he''d take it back and fix it to my liking.
The jeweler said he designed it that way so that my w-band will sit flush. I understand that, but it isn''t what we discussed in the beginning, so i was very confused...i''ve never really seen a peg-set ring like this in person, so I didn''t want him to butcher the setting before I saw it in person. i''m not sure about the height of the ring - also the "stuck-on" look of the peg head bothers me...We''ll see how it looks IRL - I should have it early next week...
Ring details: 18K rose gold setting with platinum head. diamond is .56ct.