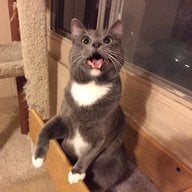 Joined

Jun 30, 2009
Messages

1,770
I am dog sitting and I left a spinel ring and my watch on the Holy Bible on the dresser yesterday. When I went to put them on this morning only my watch was there. As I see it, three things could have happened:
1. A ghost or spirit has taken it and will return it.
2. I knocked it over in a sleep state while looking for my alarm clock, but I checked the room this morning and did not see it.
3. The dresser is just above the height of the dogs nose. The dog had a history of eating rocks but recently ate one too big and had to have surgery to have it removed. It was discovered that the dog had a mineral deficiency and now takes pills. Could the dog have gotten up on the dresser and eaten the ring? She seemed normal this morning but rebuffed my interrogation.
Please, give me some dust for my lost ring. Thanks.