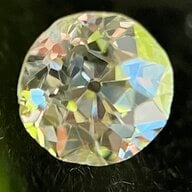 Joined

Dec 16, 2007
Messages

24,636
If you don't frequent RT then you may not know the story. I'll relate it here again. The rest of you lot, skip to the photos
For the past three months I have been working on two projects that involved OECs, one was a three stone and the other was looking for OEC studs in the 1cttw range. The projects were supposed to be presents to mark my birthday in April and my fifth anniversary in May!
Both projects needed matched pairs of OECs. Finding matched pairs of OECs is very challenging, and if you want to do it for a steal on ebay, doubly so. I had managed to find a number of OECs but none of them quite matched. I passed two of them along into the bling continuum, and was basically planning to give up entirely, when my last earring attemp stone came in. Like most of my ebay purchases, I bought it based on photos and some vague idea about its size. I was expecting it to match my 5.2mm OEC, but to my shock and surprise, when it appeared it seemed to be a great match for the 0.70ct OEC I had purchased as part of the three stone project!
Once the newest OEC was popped from its mount, its similarity to my 0.70ct was uncanny! The facet patterns are not identical, but the tables, diameters, and crown heights are so similar it is amazing! So even though keeping the pair of larger diamonds basically ate up my budget for both projects
I decided these little cuties were not leaving my hands. So the three stone is on hold, I set the matched pair, and voila! Anniversary studs!
I am not sure if these studs are the final home for the twins, but I am enjoying them! It does suck not to see them myself -- studs seem to be bling for *other* people, not for yourself. But I feel very glamourous with these huge blingy earrings! And DH loves. Them.
Anyways, photos!