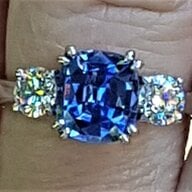 Joined

Apr 5, 2012
Messages

979
I have been reading
ACA
's thread about double prongs with interest and have a question of my own about double prongs. I am in the process of having a halo ring designed for my 1.14ct emerald cut and have requested double prongs. The ring will be cast. My stone has quite large corners (1.4mm wide) - if there were only single prongs the corners would stick out on either side of the prongs.
This aset picture shows the outline shape of my stone:
The girdle is thin to medium and I want to ensure that the corners are protected as much as possible. Would it look strange to have the double prongs spaced out so that each one covers one of the corners of the stone?
I drew some prongs onto a printout of the aset picture to show the potential placement:
I realise that because my ring will be cast the prongs might not be as delicate as I had hoped and I am now unsure if I should be asking for the prongs to be spaced according the picture above, or whether I should have them with very little space between them, and sitting on the slanted (clipped) corners of the stone rather than on the 8 corners?
The diamond is 6.52 x 5.51mm and the clipped corners are 1.4mm. Any input would be greatly appreciated.