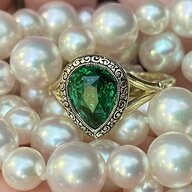 Joined

Mar 2, 2009
Messages

11,227
It's come up in various other threads that there are quite a few of us who are divorced or currently going through or contemplating divorce.
I thought I'd see if there was interest in a thread/group where we can chat about it without feeling we are thread jacking, being judged, or bringing others down (many are here to buy erings after all). I imagine many of us feel similarly in real life around real friends and colleagues too, and may not have a space to talk freely.
I guess I'll start. I'm 4 years post divorce after 10 years of being a couple. We engaged and married young and grew apart with age, and I'll admit most of that was me (I was much younger and so did more of the growing). We struggled and grew apart for awhile but I eventually decided our differences were not something that could be reconciled as they reflected fundamental differences in values. I realized I wanted a partner that celebrated the things about myself that I was most proud of, rather than just tolerate them. He's really a great guy, if I had any sort of conservative stay-at-home type friends to set him up with, I would in a heart beat. I sincerely hope he finds the right woman to live out his dream of a white picket fence, babies, and doing things the way "everyone else does it". But it can't be me, it isn't me. Luckily it was civil, and no kids involved so clean break.
I still find it super weird when I have dreams with him in it. And every now and then I'll have a flashback to a happy memory of us together and get teary. Even though it's been 4 years and I love my current life and SO.
Questions that people can maybe chime in:
1. Do the surprise memory attacks ever go away?
2. Do you still talk to your ex? If not, do you expect to someday?
3. Do you think getting divorced has altered your views on getting remarried?
4. Is anyone else's mom trying to talk them into freezing eggs?

5. Are you doing ok?